2017 Wine River Cruises
Click HERE to View the 45 page Brochure
Provence & Spain
Nov 2, 2017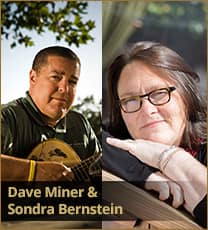 Dave Miner, Owner of Miner Family Winery, Oakville, CA & Sondra Bernstein, Owner of "the girl & the fig" Restaurant, Sonoma, CA
Founded in 1998 by Dave & Emily Miner, Miner Family Winery is a dynamic family owned winery tucked into the eastern hills of the Oakville appellation, squarely within the heart of Napa Valley. Born and raised in Chicago, Dave lived for a number of years in southern California before staking his claim in Napa Valley. He began his journey in the wine business in 1993 as President of Oakville Ranch Vineyards and launched his own label beginning with the 1996 vintage to critical acclaim that quickly solidified his position as a serious vintner in Oakville. Owner Sondra Bernstein quietly opened "the girl & the fig" restaurant in 1997 originally in Glen Ellen, California. Slowly people began to discover the rustic French food and the distinctive way of marketing and presenting it. In 2000, she relocated the restaurant into more upscale quarters on the northwest corner of the Plaza in Sonoma in the historic Sonoma Hotel.
Contact Total Travel Wine Cruises
---
Paris & Normandy
Nov 2, 2017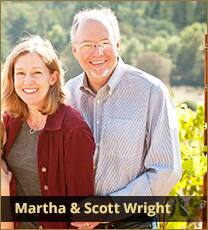 Scott & Martha Wright
Owners of Caveau Wines, Portland, OR

Martha and Scott Wright have been importing limited production Burgundy and Champagne since 2005. Scott is the former GM of Domaine Drouhin Oregon, founded by Burgundy's Drouhin family, and with his wife, co-founded Scott Paul Wines, one of Oregon's premier Pinot producers. Scott found his way to wine after a long career in the music industry first as a nationally syndicated radio personality and then as a marketing executive at Epic Records. A student of Burgundy and Champagne for more than 30 years, Scott looks forward to sharing with you the keys to unlock the mysteries of these two seductive regions. He conducts master-class tastings around the country, has been a featured winemaker at the International Pinot Noir Celebration (IPNC), and conducts annual tours in France for customers. Scott is featured in the documentary American Wine Story, and is presently co-directing a documentary feature about Burgundy (Three Days of Glory, to be released fall 2017).
Enticing Douro
Nov 7, 2017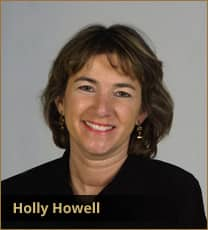 Holly Howell
Journalist & Wine Expert, Finger Lakes, NY

Holly Howell writes a wine column for the Democrat & Chronicle in Rochester and is a well-respected New York-based authority on the wines of the Finger Lakes region, particularly Rieslings. She spent a year in France studying French food and wine, teaches wine and food pairing classes, and has served as a judge for the Finger Lakes International Wine Competition. She is a Certified Specialist of Wine through the Society of Wine Educators and also writes a popular blog. Holly is currently pursuing her Wine Spirit Education & Trust diploma.
Melodies of the Danube
Nov 8, 2017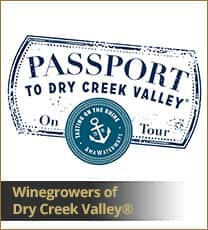 Passport to Dry Creek Valley®
Healdsburg, CA
Michael & Vicky Farrow, Owners, Amista Vineyards
Kelly Ferris, Owner & Chris Russi, Winemaker, Comstock Wines
Dan Gustafson, Owner, Gustafson Family Vineyards
Bill & Yvonne Kreck, Owners, Mill Creek Vineyards
Ed & Julie Pedroncelli St. John, Owners, Pedroncelli Winery
Tim & Mary Louise Bucher, Trattore Farms
Contact Total Travel Wine Cruises
---
Provence & Spain
Nov 9, 2017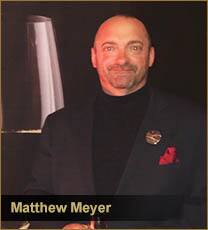 Matthew Meyer
Vice President and Winemaker, The Williamsburg Winery – Williamsburg, VA

Matthew has received many international and national accolades including Decanter's Top Wines of the World seven years in a row. Originally creating wines in Napa, he arrived in Virginia in 2002 as The Williamsburg Winery's new winemaker. He envisioned Virginia as the next big wine region in America. Now, as Executive Vice President and Winemaker, Matthew produces wines that showcase Virginia's unique terroir, such as the Trianon, the Viognier, the Barrel- Aged Seyval Blanc, the Estate-Grown Traminette and the Adagio.
Enchanting Rhine
Nov 9, 2017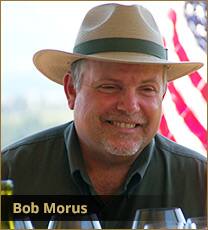 Bob Morus
Owner & Vintner, Phelps Creek Vineyards, Hood River, OR

Bob Morus founded and serves as President and Director of Winegrowing for Phelps Creek Vineyards. He moved to Hood River in 1989 with the expressed goal of raising wine grapes and kids. Today, the estate vineyards consist of 30 acres. When not tending the vines or overseeing all production aspects, Bob commands a Boeing 777 in international operations for a major airline.
Enchanting Rhine
Nov 11, 2017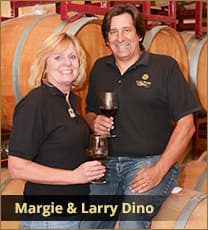 Larry & Margie Dino
Proprietors, Cuda Ridge Wines, Livermore, CA
Larry and Margie Dino, the proprietors of Cuda Ridge Wines, have a passion for fine wines which led them to the Livermore Valley – a world-class wine region with wine roots dating back to the mid-1800's. Over the years, they were inspired to learn more about the craft and traditions of making wine and founded Cuda Ridge in 2007 with a vision for producing premium wines. Small lot, handcrafted, Bordeaux style wines that bring out the wonderful terroir of Livermore Valley are their specialty. Since then each vintage has won many prestigious awards including Wine Enthusiast, San Francisco Chronicle Wine Competition, Orange County Fair, and Sunset International Wine Competition. Unique old-world style wines welcome you in each glass from Cuda Ridge. Join them to explore and learn about the wines and wine regions of the Enchanting Rhine!
Enchanting Rhine
Nov 11, 2017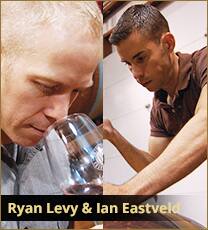 Ryan Levy & Ian Eastveld
Certified Sommeliers, Wine Educators & Le Cordon Bleu Trained Chefs, The Nice Winery, Houston, TX

Foodie superduo Ryan Levy and Ian Eastveld of The Nice Winery are Certified Sommeliers, wine educators, and Le Cordon Bleu trained chefs. Their hand crafted, boutique wines are poured in top restaurants and have won gold medals in internationally recognized wine competitions. Two of their wines have received 94 point and 92 point ratings from Wine Enthusiast Magazine and the Beverage Testing Institute, and were selected as Top 100 Cellar Selections. Ryan and Ian built their epicurean pedigree first while studying in Paris, France, then directing culinary education for Viking Ranges, teaching cuisine to thousands of students at Central Market, and operating their restaurant and catering companies, Republic and Nuance. They craft 14 award winning varietal wines in Texas, Argentina, and California's Napa Valley and Paso Robles regions.
Melodies of the Danube
Nov 13, 2017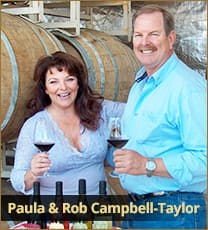 Rob & Paula Campbell-Taylor
Owners, Graveyard Vineyards, San Miguel, CA

Don't let the name Graveyard Vineyards fool you. This highly acclaimed California winery began from a dream that owners, Rob and Paula had of owning property in the country to raise their two 2 young sons. After searching the California coast, they discovered an 81-acre property on the top of a hill past a little country graveyard dating back to 1865. The property had everything on their list of "must haves" including an existing vineyard. The biggest find though came soon after when they discovered and hired their winemaker, Jason Bushong. What started with 184 case bottling in 2006 is now an award-winning winery and tasting room with direct to consumer sales of 5,000 cases per year to a wine club of over 2,000 people. Join them as they lead you along the wonderful Wachau Valley.
The Romantic Danube
Nov 13, 2017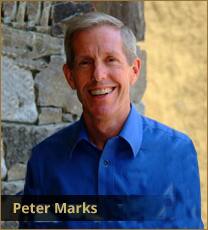 Peter Marks
Master of Wine, Constellation Brands

Peter Marks is one of only 24 Masters of Wine residing in the U.S. and was the first American to win the Madame Bollinger Foundation Award for having the highest tasting score on the rigorous MW exam. He has served as Director of Wine at the upscale Draeger's Supermarkets in the San Francisco area, Chief Wine Merchant for online wine retailer Wine.com, and Senior Vice President of Wine at COPIA, the American Center for Wine, Food & the Arts. Peter is also a member of the Society of Wine Educators, sits on the Board of Directors of the Napa Valley Wine Library and judges many international wine competitions.
The Romantic Danube
Nov 15, 2017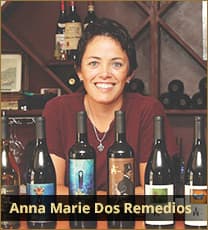 Anna Marie Dos Remedios
Co-Owner and Winemaker, Idle Hour Winery, Oakhurst CA

Anna Marie dos Remedios began making wine in 2007, focusing on small lot, single-vineyard designated wines from some of California's best wine grape growing regions. She studied at the prestigious UC Davis winemaking program to better understand the chemistry of wine and winemaking. Anna Marie and partner Deb Payne started Idle Hour Winery focusing on traditional methods, native yeast fermentation, gravity flow racking and use of neutral French Oak barrels. The result is an elegance and freshness which are the hallmarks of the smooth and subtle Idle Hour vintages. The winery is located in Oakhurst, just outside the south entrance to Yosemite National Park. The site is home to both the Idle Hour Winery and Queen's Inn by the River, an 8 room boutique hotel with wine bar and beer garden. Idle Hour Winery opened a tasting room in Carmel Valley in the heart of Monterey County last year to promote their Santa Lucia Highlands Pinot Noirs as well.
Taste of Bordeaux
Nov 16, 2017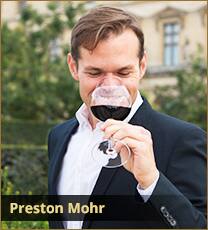 Preston Mohr
Wine Expert, IWS, WSET

Preston Mohr, is a wine expert and wine educator, based in Paris, France, where he has made his home for over 10 years. Preston founded Paris By The Glass in 2011 and offers wine tastings, gourmet walking tours and vineyard day trips in France and beyond. Preston has worked with AmaWaterways since 2012 and has cruised on the Rhine, Rhone and the Seine. Preston received the prestigious Diploma in Wines and Spirits from the Wine and Spirit Education Trust (WSET) and is an active associate member of the Institute of Wines and Spirits (IWS). Preston also holds bachelor's degrees in Art History and French Studies from the University of Minnesota.
The Enchanting Rhine
Nov 18, 2017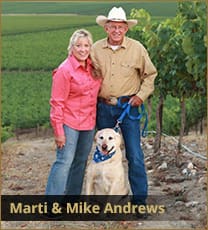 Mike & Marti Andrews
Owners, Coyote Canyon Winery, Prosser, WA

Mike Andrews, a managing partner and vineyard manager of Andrews Vineyards/Coyote Canyon Vineyard, is also owner of Coyote Canyon Winery with his wife Martha. Mike started out as a cattle rancher and diversified row crop farmer, but began the transition into wine grapes in 1994 with 20 acres of Cabernet Sauvignon. Coyote Canyon Winery was started to showcase the quality of Coyote Canyon Vineyard's grapes and today he and his son, Jeff, farm 1300 acres of contiguous vineyard in the Horse Heaven hills, growing 26 varieties. They are also a major supplier of wine grapes to Ste. Michelle Wine Estates, Coyote Canyon Winery and 16 smaller wineries around the northwest and have received more than 200 gold medals since its' founding. "We love recognition but our passion is about our wines, our family, and our history. It would be a pleasure to share these passions with you."
The Romantic Danube
Nov 20, 2017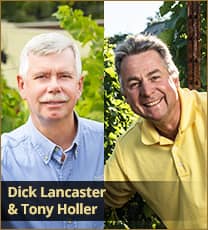 Dick Lancaster, Owner & Winemaker, Black Widow Winery, Penticton, BC
& Tony Holler, Owner, Poplar Grove Winery, Penticton, BC
Black Widow Winery is a boutique producer of premium quality wines using grapes from the Naramata Bench wine region in the Okanagan Valley of British Columbia. Dick's background in Biology, MBA, and CPA complement over 40 years of wine making experience. From the outset, their wines have won awards at Nat'l and Int'l competitions. Now over 10 years old, their gravity flow winery produces 16 different varieties of wine in small lots ranging from 25 to 500 cases showcasing the regional style. Poplar Grove Winery is located on the slopes of the Naramata Bench, a premier wine growing area just outside Penticton, BC. One of the original five wineries on the Naramata Bench, Poplar Grove was founded in 1993. Tony Holler purchased Poplar Grove and became the winery president in 2007. His wife, Barbara Holler, owns and operates the Holler's 100 acres of estate vineyards allowing Poplar Grove wines to be made from 100% estate grown grapes.
Contact Total Travel Wine Cruises
---